Jacob Fischer Trio
My trio with Daniel Franck on bass and Janus Templeton on drums is
the
basis for most of my own current projects.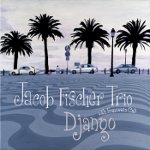 Lately we've hade a very succesful and rewarding collaboration with Sicilian accordion virtuoso Francesco Calí - as can be heard on our CD released sep. 2011.
Jacob Fischer trio feat. Francesco Calì (IT) more info
---
Jacob Fischer Organtrio - blues
Jacob Fischer - guitar
Martin Schack - hammondorgel
Casper Mikkelsen - trommer


more info Jacob Fischer Organtrio - blues
---

Jacob Fischers Xmas Friends more info
Trio + Christina von Bülow plays Christmas standards
---
Recently I've started doing solo concerts which is a real challenge
As far as I know I'm the first dane to play solo jazzguitar.
Jacob Fischer solo guitar more info
---
Duo with Charlotte Andersson

Classically trained siger and jazzguitarist in intimate duo setting in a repertoire of folk songs danish classics. We do a lot of church concerts of religious music i.a. excerpts from Ellingtons sacred concerts


Duo with Danish bass ace !