My main instrument for about fifteen years, has been a

Gibson ES 350-T from the seventies - it's a plywood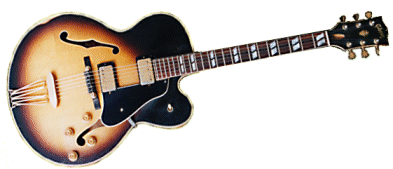 version of the Byrdland ( I have one of those too) but with a regular scale neck.
For acoustic work, I've used a

Guild F-35 flattop which unfortunately got smashed during a flight a couple of years ago, so now I use a

Martin OM-28 which came to new life when i started using

argentine strings on it. it is equipped with a Sunrise sound hole pickup.
On my Django Album I use an

Alhambra nylon-string flamenco guitar.
I endorse amps made by the great bassplyer Jesper Lundgaard check http://www.lundgaardamps.com/
I use .11 strings on all instruments - flat wound

D'addario chromes on the electrics, and Clayton "teardrop" picks.